Frequently asked questions
Where is the store?
---
We are an online home decor/ vintage store, based in East Vancouver. We currently don't have a physical brick and mortar store. However we are interested and will be making appearence at shows and event as a pop up, please get in touch with offers.
---
Can I have a refund and return an item?
---
Vintage items will have expected reasonable wear and patina that's why we love them! All the items on the site are sold in 'as-seen' condition. We try our hardest to show clear, well lit photos and note any imperfections due to wear in the description, that is why our items are not refundable. We want you to be 100% sure of your purchase before you buy! If you have any questions you can contact us prior to purchase and we will be glad to send additional photos or answer any questions! We want you to love your vintage item as much as we do!! If you are not completely satisfied with your purchase, we want to hear your feedback so we can improve our processes to match your expectations We want you to feel happy and satisfied and hope to create returning customers.​
---
If I decide on free pick up after purchase will I be refunded my delivery cost?
---
We do offer free pick up's with no handling fee. Pick ups can be arranged once payment is recieved and will be arranged to please the customers availablility at 7th and Glen [Next to Vancouver Community Collage and the skytrain]. If 'Delivery' was selected in Vancouver and you decide to pick up, the flat rate of $5 will be refunded to you upon pick-up.
---
I have a location you should go picking, what should I do?
---
Please send us your information to info@jones generalstore.com Property to pick? -Include your name, contact details and any images and descriptions of items you have to sell or type of property's use you want us to visit. Downsizing? If you have a family member that's down sizing and would like us to visit before they get someone to clear out the house, please send us some information on the items and property
---
I have something to sell, what do I do?
---
Items to sell? Send us your information and any images you have of the item for sale
---
What are your payment methods?
---
We want to offer the cheapest options available to you when paying, that's why we offer; - SQUARE: 2.9% + 30 cents per paid Square Invoice and Online Store sale - PAYPAL: When you use a credit card or a Visa Debit card, there is a flat fee of 2.9% plus $0.30 per transaction Invoice can be sent with any purchase made. Don't have credit card or dont want to use PayPal; -If you cannot use these methods for any reason, please email us and we can try to accomidate your needs. Let's make this happen!
---
When will my card be charged for a purchase?
---
Square
Deposits will be charged within one to two working days
PayPal
It usually takes just a few minutes when customers pay with a credit or debit card, or their PayPal balance. Payments made with bank transfers or eChecks take longer because they have to clear the bank.
Verify your credit or debit card. That will speed it up.
---
How do I use a promotional code?
---
You'll see the option to 'Enter a Promo Code' at the online checkout. To redeem the offer, just enter your code into the box. Only one code can be used per transaction. Make sure you do this before placing your order - promotion codes cannot be applied afterwards. T&C of codes.
---
How do we arrange Pick-up & Home delivery?
---
Once a transaction is cleared, we will contact you and arrange a time that suits you and us as soon as possible. Pick-up: Times are available in the late afternoon/evening and weekends[please do not make puchase and expect instant pickup, but we will do our very best to accomidate]. Home delivery: We will try to get this to you ASAP, as we know you will want your new purchases like yesterday.Time will be arranged between both parties. We want your return custom and you to share the good word on how we treat our customer friends, so we will try our best to accommodate you where possible!
---
Where is the $5 home delivery available?
---
$5 fee delivery is only available to Vancouver residents. Vancouver is determined to include only UBC as a Western limit, Eastern limit sits at Boundary and to the South the Fraser river.
---
I don't live in Vancouver, can I still buy items?
---
Yes of course, serious buyers please do! Please get in touch with us, do NOT make a purchase directly on the site. Send us a message through our email info@jonesgeneralstre.com or social media with an item that interests you and provide your exact address and we will provide the estimated shipping cost [taxes]and delivery timeframe. Look forward to hearing from you and have our items living in new homes all over the world:)
---
I have a property to pick, but I live in the USA?
---
Please let us know your location and item list of what you have and any images available.
We travel during the year and it's very possible we can make your property part of our trip.
If you are close to the border with Vancouver arrangements could be made even quicker, get in touch!!
---
Do you offer interior decoration services ?
---
Yes we are intersted in hearing about your projects and can offer consultations on you needs on a customer to customer basis to be discussed with client. I G.Jones achieved a distinction grade, in Interior Design certification in the UK.
---
Where do you get your items and you select a price point?
---
Items are discovered literally all over, from Europe to North America and locally here in Canada.
Our prices reflect current value of items; we have to consider the cost and time in finding and shipping them. They reflect the current market and will be updated to reflect that.
We try to sell at an reasonable rate for our client base, for quicker turn over.
Please contact us to discuss any prices, if they are inflated in the current market, we are happy to listen and provide information on how we reached our cost.
---
Where do I choose delivery or pick up
---
Go to the dropdown in the checkout and select your prefered option
---
I want to share an item on social media how do I do this?
---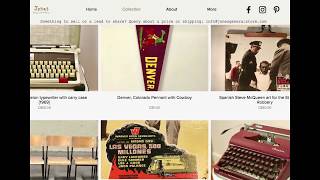 Select an item in the store and note underneath the 'Add To Cart' button social media share buttons. Click one at a time and post our items onto your social media walls. Thanks for sharing!
---
I can't see the social media share buttons on the product page
---
This can happen if you are looking at quick view of an item. If issue still persists; Opening your browser in incognito/ private browsing mode helps determine if the issue you're experiencing is localized to the browser you are using. To open your browser in incognito/ private mode: Chrome Open Google Chrome. Hold down Ctrl + Shift + N. Safari Open Safari. Click Safari Menu. Click Private Browsing. Click OK. If the issue does not reproduce in incognito, you can simply clear your cache. While browsing the web, your computer and browser store various information. This build up of information can sometimes cause conflict. To resolve this, please clear your browser's cache. To clear your desktop browser's Cache: -Close all browser windows and tabs currently running. -Make sure that no instance of the browser is left in memory (right click your mouse and selectStart Task Manager). -Open the browser on a blank page. If your browser's homepage is Wix, close this tab and open a new blank tab. -Open the cache-cleaning dialog using Ctrl+shift+del, or Cmd+shift+del using Mac (this goes for Firefox, Internet Explorer and Chrome) Make sure to close your browser and re-open it.
---
---